You only need brown sugar, Worcestershire sauce, white vinegar, kosher salt, paprika, dry mustard, and chili powder to pull off this simple recipe.
For three years now, I have been making these oven-baked riblets as the star appetizers for my weekend barbecues and they never disappoint. More to the point, they are super easy to make and extremely delicious.
In this article, I will outline this simple effective recipe which you should try out as soon as possible. I will also walk you through making pork riblets on the grill as well as how to make Asian pork riblets. Keep reading…
Baked Pork Riblets Recipe
Ingredients
4 lbs pork loin riblets
1/2 cup light brown sugar
1/4 cup Worcestershire sauce
1/4 cup white vinegar
2 tbsp kosher salt
1 tbsp dry mustard
1 tsp chili powder
1 tsp paprika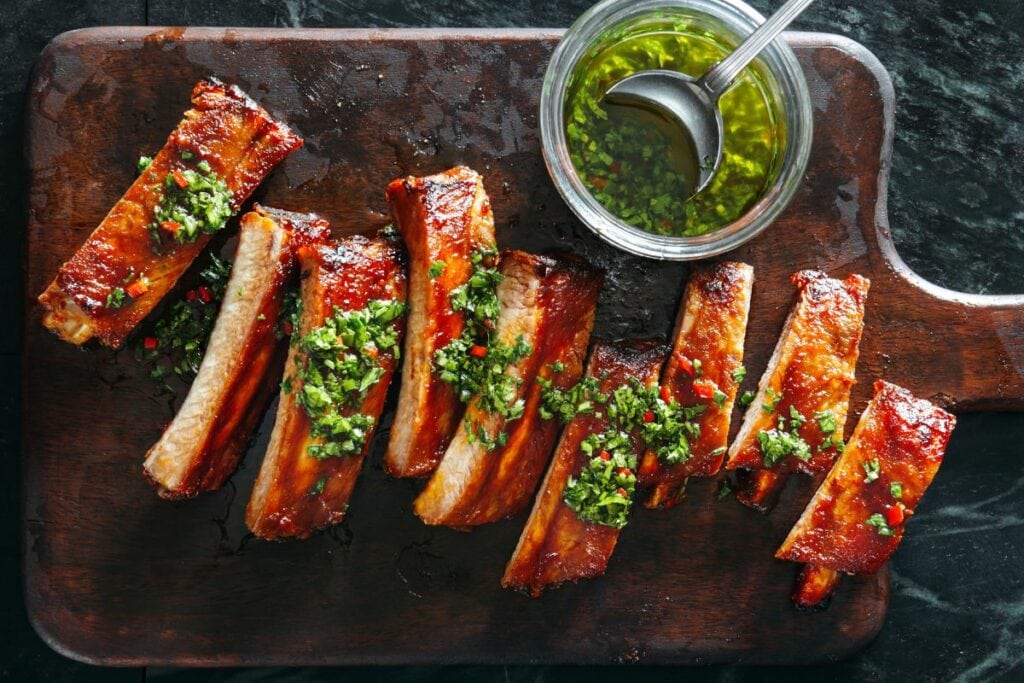 Instructions
If you have to chop up the riblets yourself, wash them under running water to get rid of any stray bone fragments and pat them dry with some paper towels.
Preheat the oven to 450 degrees Fahrenheit.
Use parchment paper to line a large baking dish. Place the riblets in the baking dish making sure they do not overlap.
Bake the riblets at 450 degrees Fahrenheit for 30 minutes. Turn them over after 15 minutes to brown both sides evenly.
As they bake, mix the brown sugar, kosher salt, dry mustard, chili powder, and paprika in a bowl. Mix evenly through then add the Worcestershire sauce and white vinegar to the mixture and stir thoroughly.
Your barbecue sauce is ready.
After 30 minutes are up, remove the pork riblets which should be brown, and turn down the heat to 350 degrees Fahrenheit.
Pour your homemade barbecue sauce all over the pork riblets and use tongs to turn them over in the sauce coating every surface of the riblets with sauce.
Place the baking dish back in the oven and bake for 1 1/2 hours more. Turn them over every half hour to ensure all surfaces cook evenly. You will notice that your barbecue sauce gets thicker each time you turn over the riblets making them stickier and saucier.
Once they are done, remove them and rest the meat for 3 minutes. Place them on a chopping block and cut them up into separate pieces of two bone-in riblets and serve with a dipping sauce of your choice.
The meat will be tender and soft enough to fall off the bone. Enjoy!
How to Cook Pork Riblets on the Grill?
If you want to enjoy grilled pork riblets, this recipe should be at your fingertips. Moreover, you can cook more pork loin riblets outside on the grill than in the oven so this should be fun.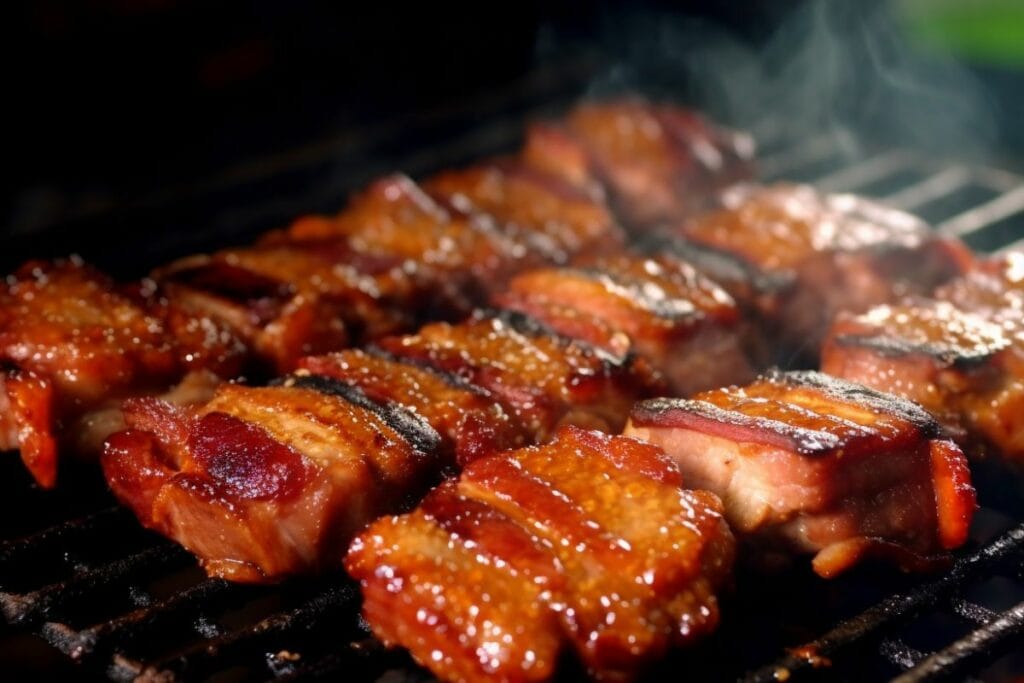 Ingredients
8 lbs pork riblets
4 tbsp kosher salt
4 tbsp Killer Hogs BBQ seasoning
1 cup light brown sugar
2 sticks of salted butter
1/2 cup honey
1 1/2 cups The Redneck BBQ Lab Sauce
Olive oil cooking spray
Instructions
Wash the riblets and pat them dry. Place them on a tray and fire up your grill to 275 degrees Fahrenheit.
Place a few chunks of cherry wood for the extra flavor. This is an optional step and you can add any wood chunk that you prefer.
The barbecue sauce recipe above will impart a delicious strong flavor to the meat but since pork can accommodate quite a bit of flavor, a nice smokey undertone will be a welcome additional taste to the whole final result.
As the grill gets going sprinkle the salt and BBQ seasoning on the riblets on both sides and let them sit out for about twenty minutes before popping them onto the grill.
Spray the grill grates with olive oil and arrange the riblets on the grates without overlapping. Cover the grill and let them smoke for 1 1/2 hours. You may turn them over after 45 minutes.
After 1 1/2 hrs, they should be nicely charred. Remove them and place them in a large aluminum pan.
Pour the sugar all over the riblets covering all of them evenly.
Cut up your buttersticks into pats and arrange them evenly over the riblets so that they melt and soak into the meat.
Pour the BBQ sauce all over the butter. You are free to use your favorite BBQ sauce here.
Finally, pour in the honey all over your riblets and cover the pan with aluminum foil securely.
Place the riblets back on the grill for another hour and cover.
When ready the riblets should be soaked in a delicious BBQ sauce.
Using tongs, drench and turn each riblet in the gravy and place them one by one on the grates to char for about two minutes on each side.
Remove them and cut them up into bite-sized pieces then serve hot with the pan juice as a dipping sauce.
How to Make Asian Pork Riblets?
Pork riblets are quite versatile and can be made in a number of ways but they are a staple in Asian cooking so the best place to buy riblets is from Asian grocery stores. The butchers will always have them ready for braising or grilling which means the different recipes are a lot easier to make.
For this recipe, you should get the riblets that have been cut up into smaller chunks preferably separated into single bone in pieces. You can ask the butcher to do this for you if they only have the whole pork loin.
Ingredients
4 lbs pork riblets
1 tbsp crushed ginger
1/2 cup regular soy sauce
1/4 cup dark soy sauce or black bean sauce
2 tbsp rice vinegar
4 tbsp brown sugar
Olive oil
Instructions
Fire up the stove and turn the heat to high.
In a large crock pot, heat up 2 tbsp of olive oil. Put the ginger into the hot oil and stir till the ginger begins to brown lightly.
Add the pork riblets and stir continuously until they begin to turn brown.
Add the regular soy sauce and the dark soy sauce and stir.
Add the rice vinegar and the brown sugar and stir till all the riblets are well coated.
Turn down the heat to medium-low and cover the pot.
Let the meat cook this way for about 30 minutes.
When the time is up, the pot will have quite a bit of liquid so remove the lid and raise the heat slightly to medium-high.
Let the meat simmer until most of this liquid is gone leaving a sticky glaze. This could take 45 – 60 minutes.
You can test the tenderness using two forks. If you cannot tear the meat apart leaving the bone clear then the meat should cook for another fifteen minutes.
When done, turn off the heat, season with a tablespoon or two of rice vinegar, and serve immediately.
What Can I Serve With Asian Pork Riblets?
Asian pork riblets make an awesome pairing with steamed rice, sauteed green vegetables, steamed cabbage, and mashed butternut squash.
You can also have them with a good old mac and cheese. The choice is yours.
How to Reheat Riblets?
The fastest way to reheat pork riblets is to pop them into the microwave for two to three minutes. Just don't let them heat for too long or they will dry out.
If they are rather dry already, brush a small amount of your favorite BBQ sauce all over the riblets to introduce some moisture then nuke them for 2-3 minutes.
What Are Barbecue Pork Riblets?
Pork riblets are sections of pork loin rib or baby back ribs cut across the cross-section and are approximately 2 inches in width. The size makes them the perfect choice for BBQ appetizers.
They can be cooked alongside rib tips which are boneless chunks of pork cut from the underside of spare ribs.
You will find pork riblets mostly in Asian recipes.
FAQs
1. Are Pork Riblets the Same as Ribs?
No.
Pork riblets are cut from the end of a stack of pork ribs to make ribs easier to handle when cooking and to improve the appearance of the ribs for serving.
They look like a smaller version of pork ribs but they are not the same. You can think of them as mini pork ribs.
2. What Are Riblets Good For?
Appetizers.
Oven-baked riblets and grilled riblets, in particular, make great bite-sized starters before the main star of the barbeque is done. I make them alongside chicken wings.
I highly recommend them to get your guests geared up for the main meal.
They are also a great menu item if you prefer to make them Asian style.
3. How Long Does It Take to Cook BBQ Riblets?
You want to cook riblets till they are 'fall off the bone' tender so approximately two hours total in the oven.
Using the recipe above, your riblets should take about 2 ½ hours on the grill to get done.
Braising takes between 1 ¼ and 1 ¾ hours depending on the toughness of the riblets. Braising riblets takes a shorter time since the moisture content helps to tenderize the pork which results in a shorter cooking time.
As I Pen Off…
As you can see, oven-baked riblet is a simple straightforward recipe that will deliver finger-licking good appetizers every cookout.
Tweak your homemade barbecue sauce to your liking but remember to keep it simple since pork has a subtle flavor that could get lost under other strong flavors.
That said, riblets can be made in a variety of ways, and when done just right each method will give absolutely amazing meals.