Amongst my friends and family, I am actually known for my pork jerky – I picked up my recipe from a friend while in China, and my brother-in-law always makes me bring a jar whenever I come over.
The truth is that my pork jerky recipe isn't that complicated. You need a few spices that you probably already have in your pantry, like onion powder, black pepper, and a sweetener of your choice, along with a good cut of naturally lean meat (I like to use pork loin).
Even though it's relatively easy to make pork jerky, it's unfortunately not that popular compared to beef jerky. This is mostly due to a misconception, which I've touched on later. But if you want to give it a try, you're in for a treat! I've discussed an absolutely delicious one for you below.
What is the Best Pork Jerky Recipe?
Before I get to the recipe, there are some concerns I want to clear up first – a lot of people ask me whether pork can even be made into jerky. The truth is, you have to be careful and use a very lean cut of meat: fattier cuts of pork can go rancid. This is why my recipe uses pork loin, but it also works fine with pork tenderloin if that's what you want to use.
Also, pork needs to reach at least 145 degrees Fahrenheit to be safe to consume. A typical dehydrator goes above and beyond this with a maximum temperature of 160 degrees Fahrenheit, while an oven can obviously go higher.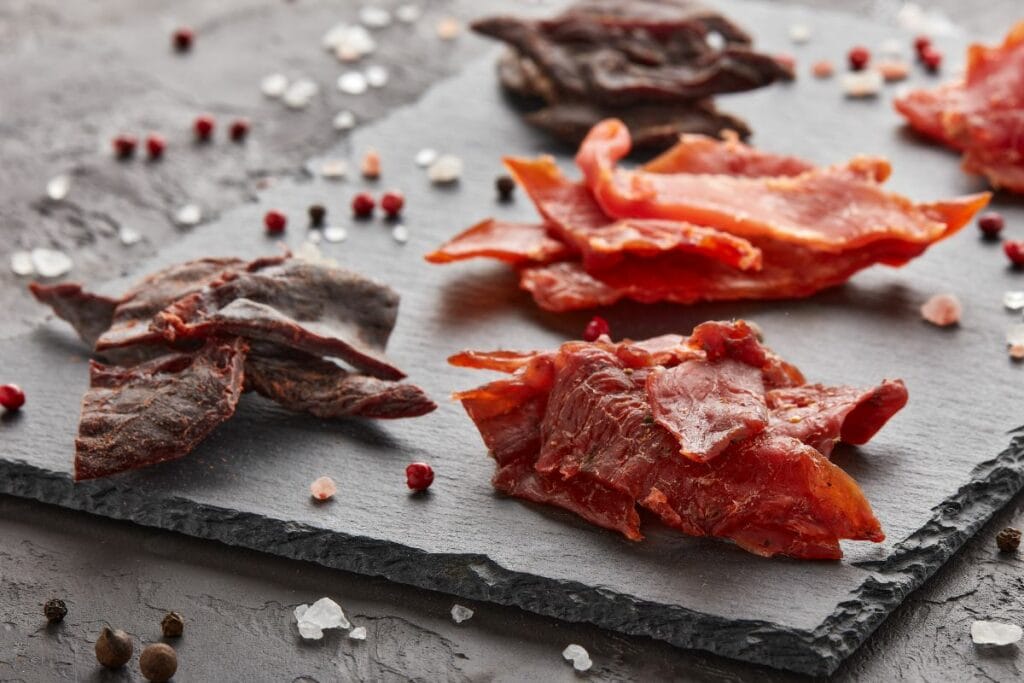 With that out of the way, let's get into my homemade pork jerky recipe. Here are all the ingredients that you'll need (you won't need anything fancy like curing salt, don't worry):
1 1/2 lbs pork loin
1/2 cup teriyaki sauce
2 Tablespoons Worcestershire sauce
1 teaspoon onion powder
1/2 teaspoon black pepper
2 Tablespoons maple syrup ( I like using brown sugar when there's no maple syrup on hand. I've also had luck with agave if you want to be more health conscious)
Step 1: Prepare the Meat
The first step is trimming any fat from the pork loin down. I'd suggest that you sharpen your knife well, as you won't easily be able to trim the fat off it, otherwise. Then, you have to cut the pork into about 1/8-inch thick slices across the grain.
To make the cutting easier, you can partially freeze your pork – this will make it firm enough to get crisp, thin slices out of. I like to keep my pork in the freezer for about 2 hours to achieve this.
The truth is that you can get away with making the slices a tad thicker if you're struggling. Just make sure that in general, the meat is thin as thick jerky doesn't have the best texture.
Step 2: Marinade the Sliced Pork Strips
Once you have your pork slices ready, you'll have to combine your marinade ingredients into a large bowl, and then add your pork to it. Make sure it's drenched in the mixture well – don't be afraid to really get in there, as you want all the flavors combined. I usually put on a song and combine it until it's over.
Cover the bowl with a layer of plastic wrap and keep it in the fridge overnight. From my personal experience, if you're in a hurry, you can get away with marinating the meat for just an hour or two. Of course, keep in mind that your jerky won't be as flavorful as it should be.
You can remove the pork and arrange it on your dehydrator trays once it's done marinating, or on top of cooking grids over cooking sheets in an oven (to catch any juices or excess marinade)
Step 3: Cook the Meat
Place the dehydrator trays with the meat into the dehydrator, and then set the temperature to 155- 165 degrees Fahrenheit. If you're using an oven, you'll have to go with an oven temperature of 200 degrees Fahrenheit and prop the door open slightly to allow airflow. I usually prop it open by adding a kitchen utensil (like a spatula) in between the door.
You should leave the meat in for about 4-6 hours, or until it is dry but still pliable. You can take it out and let it cool before storing it in an air-tight container afterward.
If you're wondering for how long you can keep the jerky, I've had mine last for 2-weeks at most while storing at room temperature. Either way, I discussed more about this later on.
What Does This Jerky Taste Like?
My recipe will leave you with jerky that's sweet but also savory – like I said, I got it from a friend while in China, so it has a nice East Asian influence to it. I especially like the subtleness of the maple syrup mixing with the teriyaki flavor.
As you can imagine, the pork cut that you use affects the final flavor (and texture) of the finished product. I recommend that you use pork loin because it has a fine grain and is tender. Ultimately, you'll have pork jerky that absorbs your marinade well, and also is easier to chew (because who likes tough jerky?)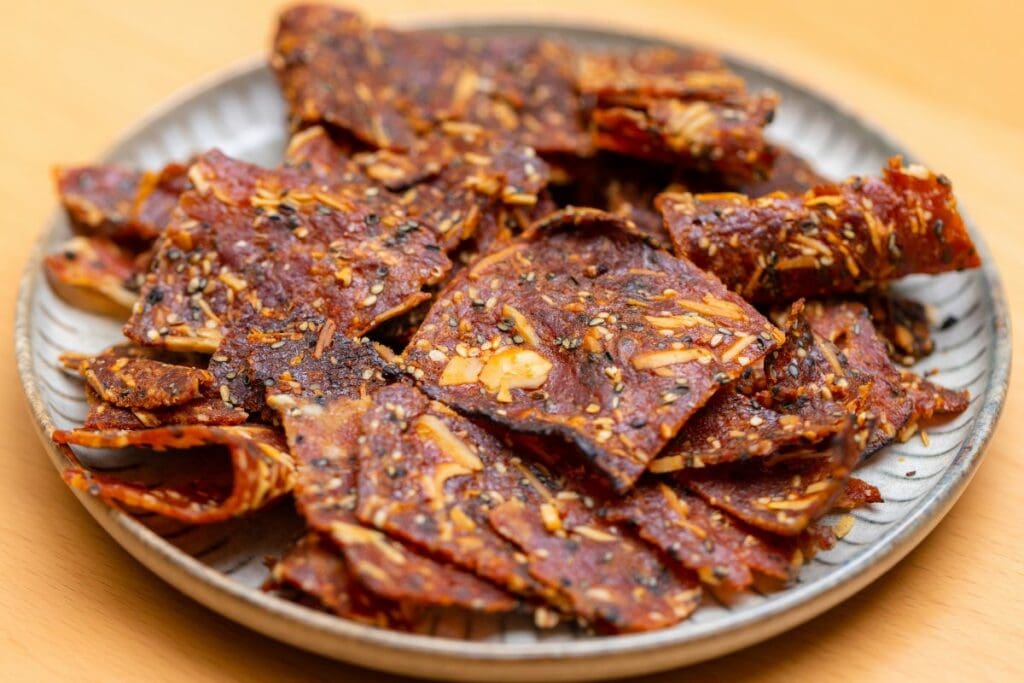 Are There Any Other Pork Jerky Recipes?
So, the above recipe is probably the one I'm the most known for. But I do have another one that I recently made. It's been a hit, and you'll need the following ingredients for it:
⅓ cup Worcestershire sauce
⅓ cup Soy Sauce (I'd recommend going with dark soy sauce for a richer flavor)
¼ cup brown sugar (you can use maple syrup if you want to spice it up)
2 tablespoons chili paste (any brand works fine but you can always make your own if you want)
3 cloves garlic crushed
¼ teaspoon black peppercorns whole
¼ teaspoon liquid smoke – Wright's Hickory is my favorite
1 lime juiced
Here's the recipe (keep in mind you need a dehydrator for it):
Mix all of the ingredients needed for your marinade, and then put it to simmer in a pan (or until the brown sugar has dissolved. This can take a minute or two, so remember to keep mixing)
Take the mixture off the heat and let it cool completely.
Pour the cooled marinade into a container or sealed bag and then add the sliced pork in – give it a good shake, and then rub the mixture in the bag well
Let the meat marinate overnight.
Remove the pork and use paper towels to pat dry any excess marinade
Lay the strips of pork onto dehydrator trays, and add it to your dehydrator at 160 degrees Fahrenheit
Dehydrate the meat for around 4 hours, and then let it rest on a baking sheet in a cool dry place
How Can You Store Pork Jerky?
You can store any type of properly dried jerky at room temperature (in a sealed container) for up to 2 weeks. But if you want it to last longer, I'd suggest that you add the jerky to an air-tight container in your fridge. I've been able to get my pork jerky to last up to 4 weeks by doing this.
FAQ
Answered below are some popular questions.
Is Pork Jerky as Good as Beef Jerky?
To be honest, which of the two is better really comes down to your personal preference. Beef jerky is softer and easier to chew, while pork jerky can be tougher (even if you're using a tender cut of meat). From a flavor perspective, it just depends on whether you like the taste of pork or beef. Personally, I like the taste of pork more, so I am a big pork jerky fan.
Of course, the marinade you use also plays a role in how good the jerky strips taste. Both of mine are delicious.
If it's any added benefit, pork jerky is healthier than beef jerky. It's lower in calories, cholesterol, and sodium. Calorie-wise, there are 242 calories in 100 g of pork jerky compared to 410 calories in 100 g of beef jerky.
Is Jerky Junk Food?
Jerky is a really good snack cuisine as it's healthy but also super flavorful. It not only is low in calories, but it's also high in protein, especially when made from pork- 100 grams of it will give you around 36 grams of protein, which is as much protein as is in 6 whole eggs.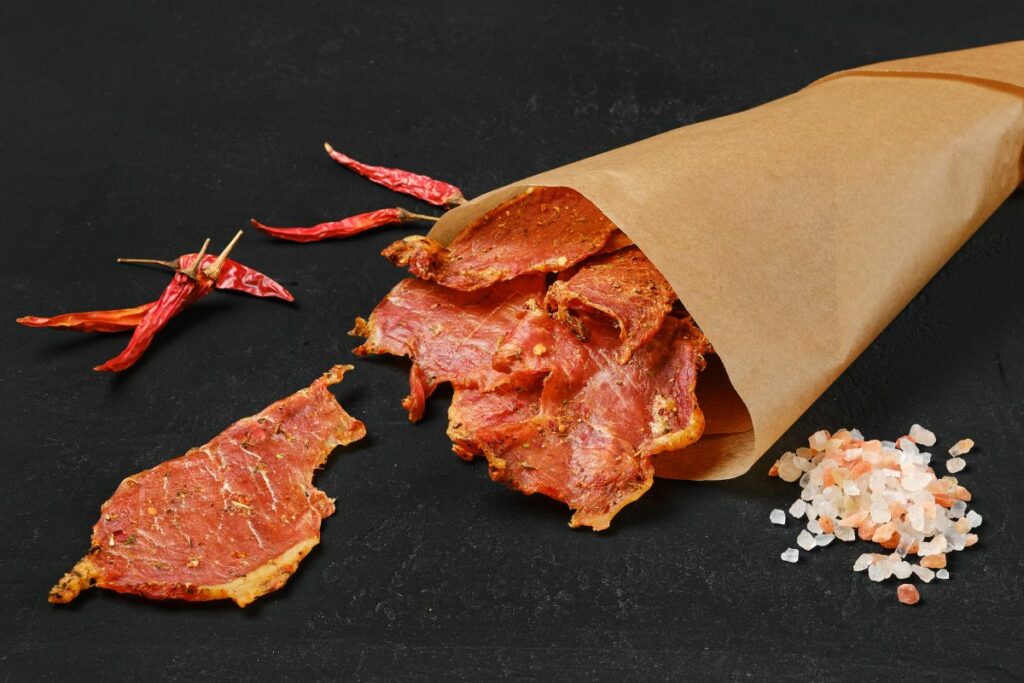 Final Thoughts
Making pork jerky is super simple, as you saw from my homemade jerky recipe. I not only ran you through one jerky recipe but two – I'd say my second recipe is more up your alley if you like more umami flavors.
Once you've made your jerky, you can store it in an airtight container: It will last for around 2 weeks at room temperature. And if you refrigerate it, it can last a week or two longer.
All in all, I hope you found everything discussed useful, and will be able to make pork jerky now!