Air-fried pork belly is a mouthwatering dish that is easy to prepare. This dish is great for holidays, and it tastes great with different sides like mashed potatoes, mac and cheese, and so on.
I started air-frying food some years ago, and I must say I found the experience to be fun, quick, and less messy. Apart from chicken wings, pork belly is one of my favorite meats to air fry because I can cook and enjoy it in under an hour. Today, I'll show you how I make crispy pork belly using an air fryer. By the end of this article, you'll be able to prepare this piece of meat and wow your guests.
How to Air Fry Pork Belly?
Let's look at the ingredients and instructions for making a crispy pork belly that melts in your mouth.
Ingredients
1 1/2 pounds of pork belly
1 teaspoon black pepper
2 teaspoons kosher salt
1/2 teaspoon garlic powder
1/2 tablespoon baking powder
Cooking oil
Instructions
Step 1: Cut the pork belly into 1-inch strips the night before cooking, then place them in a large bowl. Rub salt all over the pork belly strips, arrange them on a large platter with the skin side up, and season with black pepper. Then, put the meat in the fridge for 2 to 3 hours or leave it overnight.
Step 2: Mix baking powder and garlic powder in a small bowl and rub the pork belly strips inside the mixture.
Step 3: Preheat the air fryer to 250 degrees Fahrenheit. Apply cooking oil spray to the air fryer's basket. Then, spray the cooking oil on the pork belly strips. Ensure the pork belly isn't completely soaked in oil.
Step 4: Place the pork belly strips in the air fryer basket with the skin side facing up. Then air fry for 25 minutes and check the meat's internal temperature. The ideal temperature for pork belly is 165 degrees, so cook until they reach this temperature. To ensure even crisping, toss or turn the pork belly cubes every five minutes.
Step 5: Once the meat is done, remove it from the air fryer and place it on a rack to rest for 5–10 minutes, then serve the crispy pork belly bites and enjoy!
Air Fryer Pork Belly Cooking Tips
Crispy skin is the secret to a delicious air fryer pork belly. The pork belly will be chewy if it is not crispy, and we don't want that. Moreover, it must become crispy without burning. Here are some pointers for achieving the ideal crispy skin.
Avoid using a wet marinade on the meat. The skin won't become crispy if it gets wet and absorbs moisture.
Watch the pork belly carefully while it cooks to prevent burning.
Never cook frozen pork belly. Allow it to defrost first.
Preheat the air fryer for added crispiness. To get the crispiest results, it's best to pre-heat the air fryer before cooking pork belly.
One air fryer can fit a lot of pork belly. So, you can get away with fitting many pork belly bites in the cooker. Moreover, the pork belly will shrink as you air fry it.
Thoroughly dry the skin of the pork belly before air frying. Use paper towels or a fresh kitchen towel to completely dry the skin.
Don't score the skin too deeply. Ensure the cut doesn't penetrate the skin. The reason is that the juices will be released, preventing the skin from becoming crispy while it cooks. Alternatively, you could poke holes in the skin rather than score it. Use a toothpick and don't poke holes in the meat, for the same reason you shouldn't score the meat too deeply.
What is Pork Belly?
A pork belly is a boneless and fatty piece of pork cut from a pig's belly. This pork cut is available at most grocery stores and butcher shops. The advantage of buying pork belly from butcher shops is you can ask the butcher to help you chop them up.
When buying pork belly, select slabs with even thickness. This will guarantee that the pork belly cooks thoroughly, and the skin comes out crispy.
You can also trim the meat to ensure it has an even thickness. Additionally, it would be best to choose a piece of pork belly that has a thin layer of fat inside the meat and a thin layer of skin.
Why Cook Pork Belly in an Air Fryer?
Pork belly can be cooked in a standard oven, but the cooking process may leave your oven looking like a mess. Cleaning up is much simpler when cooking pork belly in the air fryer because the fat stays inside the appliance.
Also, air fried pork belly cooks faster than a pork belly in a conventional oven. So, you can save time cooking this tasty pork cut in an air fryer.
Air Fryer Pork Belly Side Dishes
You can enjoy this tasty air fryer pork belly with several incredibly simple side dishes. Here are my recommended choices:
Baked Sweet Potatoes
The air fryer pork belly nicely complements the sweetness of the potatoes. The delicate texture contrasts nicely with the crispy skin of the pork belly. Also, because it's a starchy crop, the dish is filling.
Salad
Most entrées go well with a fresh, healthy bowl of salad. The vegetables' crispness complements the pork's tenderness nicely. The salad has mild flavors, ensuring that it won't overpower the air fryer pork belly.
Mac and Cheese
This dish tastes great with most proteins, and the air fryer pork belly is no different.
Macaroni Salad
If you're not a fan of mac and cheese, macaroni salad is an excellent alternative. It has a more delicate flavor that won't dominate the crispy pork belly and is just as filling as mac & cheese.
Rice
This starchy dish complements the meatiness of the air fryer pork belly. Also, the crunchiness of the pork belly makes the meal yummier.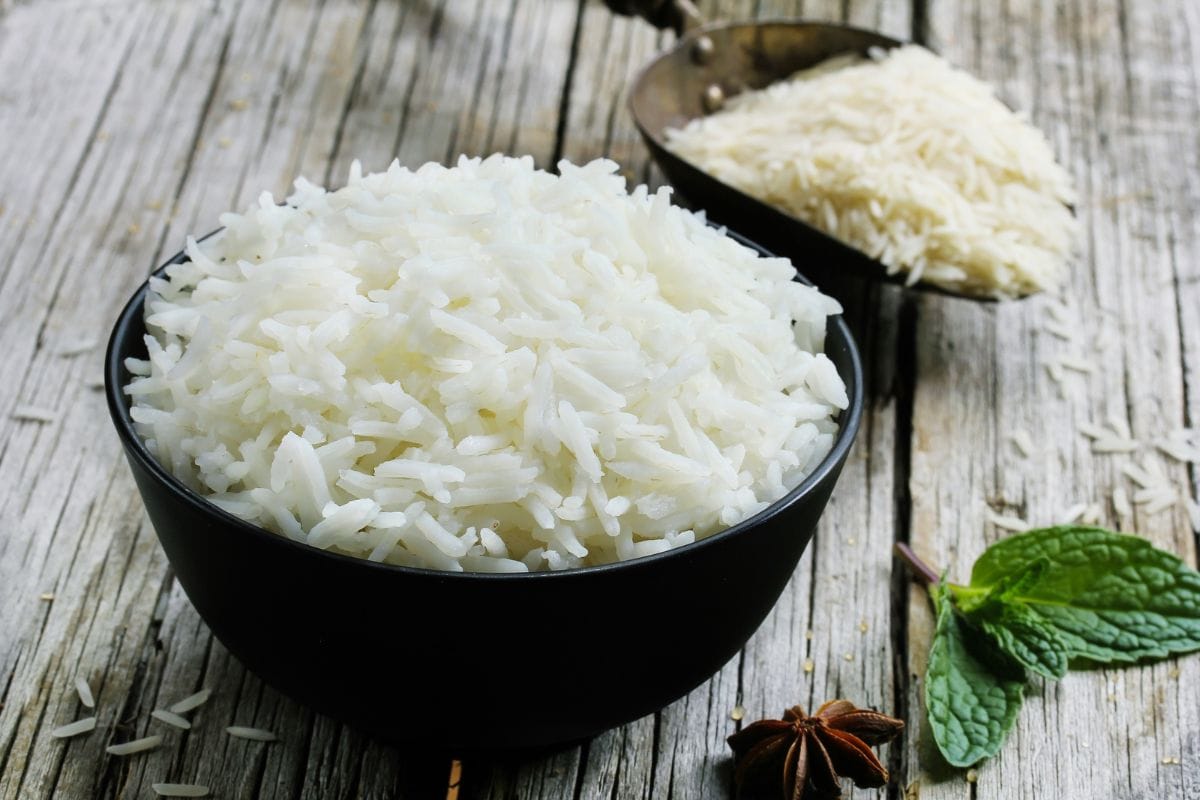 Baked Beans
Baked beans have a sweet taste, and when paired with the savory flavor of the crispy pork belly, the outcome is simply divine.
Mashed Potatoes
Another creamy side that pairs well with practically any protein is mashed potatoes. The rich and flavorful air fryer pork belly goes incredibly well with this buttery and creamy side.
How to Store Leftover Pork Belly?
You can store leftover pork belly in the refrigerator or freezer. When refrigerating your air fried pork belly, place the leftovers in an airtight container and keep them in the fridge.
The cooked pork belly should last for 3 to 4 days if stored properly. Put the pork belly back in the air fryer when you're ready to reheat it to make it crispy and delicious again.
Before freezing your air fryer pork belly, ensure that it reaches room temperature. Arrange the pieces of meat on a baking sheet, making sure you don't put one on top of another. Then, place the tray in the freezer.
Once completely frozen, remove the frozen pork belly from the tray and place it into a freezer-safe storage bag. The pork belly pieces should remain edible for up to three months. When you're ready to reheat the leftover pork belly pieces, allow them to thaw before popping them back into the air fryer.
Tip: To reheat pork belly, preheat the air fryer to 375°F, spray the air fryer basket with cooking oil, and place the skin side up. Then, air fry it for 5 minutes or until it is warm enough to your liking.
What is the Difference Between Bacon and Pork Belly?
First off, it's important to know that bacon comes from pork belly pieces. You can transform a cut of pork belly into bacon strips by trimming the fat, curing, smoking, and slicing the piece of meat.
Frequently Asked Questions
1. Is It Hard to Cook Pork Belly in an Air Fryer?
In my experience, preparing pork belly strips with an air fryer is not too challenging. All you need to do is decide how you want to prepare the meat cut. If you want really tender meat with crispy skin, I recommend using my recipe.
2. Why is the Pork Belly Skin Not Crispy?
Your pork belly is likely, not crispy because you didn't toss the meat while in the air fryer. Also, too much moisture on the meat can cause a rubbery texture. An air fryer works by circulating extremely hot air all around the pork belly cubes. So, it won't crisp up well if you don't toss it and expose more surface area.
3. Where Can I Buy Pork Belly?
Most specialty butchers sell pork belly. Also, you can find these cuts in your local grocery store and at supermarkets.
4. Can I Eat Pork Belly on a Paleo Diet?
The short answer is yes! Most paleo diets should work well with pork. Animal-based meals are often highly recommended as part of the paleo diet, especially if they are pastured foods.
5. Can I Use an Air Fryer Instead of a Deep Fryer?
An air fryer can produce similar crispy results as long as you use the right recipe. However, don't expect the same results you get from deep frying. Imagine an air fryer as a small convection oven rather than the cousin of a deep fryer.
Conclusion
Pork belly comes out great in an air fryer, and the cooking process is much quicker than in a regular oven. You'll love how easy this recipe is and the numerous side dishes that complement it. Remember to follow my pork belly recipe tips to get crispy and tender results. So, start up your air fryer and try out my easy recipe.